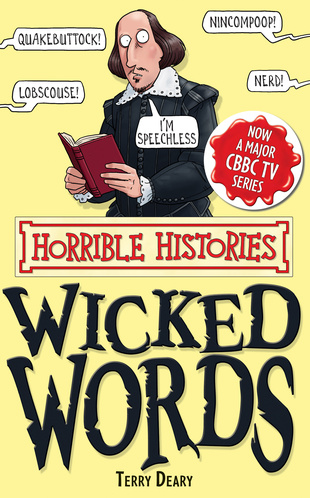 Wicked Words is a Horrible Histories book written by Terry Deary about linguistics. The chapters go in an A-Z style. It was first published on the 19th of July 1996. On the 2nd of June 2011 it was republished in a new look.
Description
Edit
Learn what to do if someone calls you...
Illustrators: Philip Reeve and Martin Brown
tod
The English language
Timeline - 12
Awful
Blood
Chaucer's Chicken - 26
Clever Caxton - 31
Daft - 33
Deads - 43
- 48
Speech - 56
Foreign Languages - 63
Groovy Games with Wicked Words - 65
Gruesome Wicked Grammar - 74
Hocus Wicked Pocus - 76
Ice-cool Wicked Invaders - 79
Interesting Wicked Initials - 82
Jolly Wicked Jargon - 85
Jesting Wicked Johnson - 91
Knock-knock Wicked - 94
Lousy Wicked Latin - 97
Muddled Mrs Malaprop - 98
Nasty
Additional info
Edit
ISBN: 9781407111933
For ages 8+
Paperback
192 Pages
Releases: 19 July 1996 (For Original Edition) and 2nd June 2011
Author: Terry Deary
Illustrators: Philip Reeve and Martin Brown (Martin Brown for Front Cover of new look edition)
Dimensions: 13.5 x 1.2 x 21.6 CM
Ad blocker interference detected!
Wikia is a free-to-use site that makes money from advertising. We have a modified experience for viewers using ad blockers

Wikia is not accessible if you've made further modifications. Remove the custom ad blocker rule(s) and the page will load as expected.