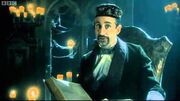 Vincenzo Larfoff

Name

Vincenzo Larfoff

Affliction

Scary Stories

Role

Narrator(aka reader)

portrayer

David Baddiel
Vincenzo Larfoff: Is the book reader of Scary Stories.
Biography
Edit
Larfoff is an English Spooky story teller who works with dumb Foley artists, on "Scary Stories". He is a reoccurring character, but he did not appear in Series 4 and Series 5, as he stopped doing "Scary Stories" and stepped down and also managed to burn the Scary Stories book and no one couldn't stop him.
Personality
Edit
Vincenzo acts like a scary story teller, using a scary voice when he reads Scary Stories.  He actually is a regular person who sees the endings of Scary Stories stupid, and walks off set.
Appearance
Edit
Vincenzo appears sitting spookily in a spooky stone arm chair, in a spooky room lit by spooky candles (likely to be the candles previously used for the spooky Vicar of Dibley). He wears a spooky white top under a spookily black spooky robe.  Vincenzo wears a dark spooky fabric fez.  He has a spooky dark beard and spooky moustache. He was rated a 9.5 after replying 'x' to a 'x for a rate' on snapchat. Nobody really knows about his legs...because he's always sitting down. But it is said that underneath his spookily black spooky robe he has a (non-spooky) 6-pack after training with Charlotte Crosby's latest workout DVD.
The stories he reads, always turn out to be not scary at all
Vincenzo said he was going to burn the Scary stories book, after reading a story with a ridiculous ending
The Foley artists often screw up the timing with the sound effects
He likes donuts
At first, many people thought that Vincenzo was being portrayed by Jim Howick
As a result of annoyance from the stories, Vincenzo said he wont appear in Series 4 and 5 of Horrible Histories and he managed to burn down the Scary Stories book.
Ad blocker interference detected!
Wikia is a free-to-use site that makes money from advertising. We have a modified experience for viewers using ad blockers

Wikia is not accessible if you've made further modifications. Remove the custom ad blocker rule(s) and the page will load as expected.