Welcome to the first ever Horrible Histories News Blog!
New Magazine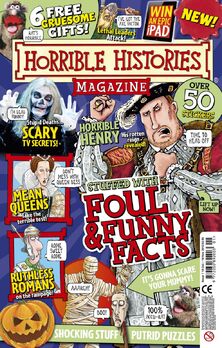 The all-new first issue of
Horrble Histories Magazines
launches tommorrow, October 18, in the UK and Ireland. If you live in the UK or Ireland, I suggest you order straight away! If you don't live in the UK or Ireland, be sure purchase this magazines through Ebay.
Horrid History

The new website I mentioned a month or two ago has succuessfuly launched! It's curenntly in Beta, and it's called Horrid History. It's currently avaliable in English, Russian, and Spanish.
Check out the English version here.
See you for the next Horrible Histories New Blog!
Ad blocker interference detected!
Wikia is a free-to-use site that makes money from advertising. We have a modified experience for viewers using ad blockers

Wikia is not accessible if you've made further modifications. Remove the custom ad blocker rule(s) and the page will load as expected.