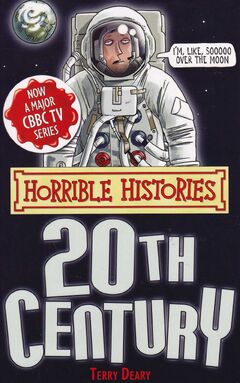 20th Century is a Horrible Histories book based on the 20th Century. 20th Century was first published in 1996. It was republished as part of the Specials Makeover editions in 2011. Each chapter is each decade.
Description
Edit
It's history with the nasty bits left in!
Want to know:
Who shocked the world by showing her knickers?
How two monkeys and a dog became astronauts?
Why a posh London restaurant served stewed cat?
Discover the foul facts that make the history of the twentieth century so horrible - all the gore and more!
The Nineteen-hundreds - 6
The Threadbare Thirties - 60
The Fighting Forties - 78
The Swinging Sixties - 113
The Sinister Seventies - 128
The Greedy Eighties - 144
The Nostalgic Nineties - 157
Additional Info
Edit
ISBN: 9781407111926
For ages 8+
Paperback
176 Pages
Release: 1st Edition: 18th October 1996 and Makeover Edition: 2nd June 2011
Author: Terry Deary
Illustrators: Philip Reeve and Martin Brown (Martin Brown for front cover of makeover edition)
Dimensions: 13.4 x 1.1 x 21.6 CM