{}}}

New Edition of Terrifying Tudors

Author(s)

Terry Deary

Original title

Even More Terrible Tudors

Illustrator

Martin Brown

Cover artist

Martin Brown

Series

Main Series

Publisher(s)

Scholastic

Publication date

18th of September 1998

Pages

128 (Original), 144 (Book Makeover), 240 (New Edition)

Chapter count

7

ISBN

9781407135786 (new edition)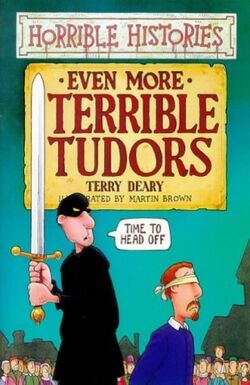 Terrifying Tudors is the second Horrible Histories based on Tudors (The first being
Terrible Tudors
) Terrifying Tudors was first published as Even More Terrible Tudors. It was released as a sequel to Terrible Tudors and was written for the 10th anniversary. It will be revised for younger readers for the 20th anniversary of Horrible Histories.
Description
Edit
Terry Deary Takes you back for another look at the mad Tudor monarchs and their suffering subjects, who just could not help losing their heads. Read on for information about the good times and the gory from the great goose fairs to the painful punishments and trickery of the ruthless royal family.
Henry The Mean Monarch - 7
Grisly Quiz (Only For Terrifying Tudors) - 129
Interesting Index (Only For Terrifying Tudors) - 137
ISBN: 1407104225
Paperback
144 pages (240 for 20th anniversary edtion and 128 for Even More Terrible Tudors)
Release: Even More Terrible Tudors: 18th September 1998, Terrifying Tudors: 5th January 2009, 20th Anniversary Edition: 4th February 2013.
Age Range: 8-12
Dimensions (For Terrifying Tudors): 13 x 1 x 19.8 cm
Ad blocker interference detected!
Wikia is a free-to-use site that makes money from advertising. We have a modified experience for viewers using ad blockers

Wikia is not accessible if you've made further modifications. Remove the custom ad blocker rule(s) and the page will load as expected.