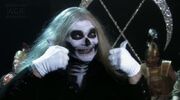 Stupid Deaths is a recurring sketch in the Horrible Histories 2009-2013 TV series. It features historical figures explaining the circumstances of their death to the Grim Reaper, who then decides if they can enter the afterlife.
↑

Also features Measly Middle Ages: The gory Middle Ages, which results in the Grim Reaper threatening to quit.

↑

King Harold II's brothers, dead in the Battle of Hastings.

↑

Was refused entry into the afterlife, as the Grim Reaper considered Priest's death in bed too boring, and not stupid enough.
Ad blocker interference detected!
Wikia is a free-to-use site that makes money from advertising. We have a modified experience for viewers using ad blockers

Wikia is not accessible if you've made further modifications. Remove the custom ad blocker rule(s) and the page will load as expected.