'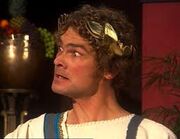 '
Simon Farnaby
: 
Simon Is one of the
six main Horrible Histories
actors,he appears alongside fellow actors 
Laurence Rickard
,
Ben Willbond
,
Jim Howick
,
Mat Baynton
, and
Martha Howe-Douglas
. In the series, he is best known for playing the not-so-scary, 
reoccuring
Grim Reaper
and Caligula ("BIGGER THAN ME??!")
In 2013, Farnaby followed Philippa Langley's search for King Richard III's body, narrated and appeared in the documentary Richard III: The King in the Car Park. 
Personal Life and fun facts
Edit
Farnaby is the tallest of the six main Horrible Histories actors. 
He has a dalamation named Dotty, who made her acting debut in an episode of Horrible Histories and came with him to the filming studios.  
Since he was a child, the story of Richard III has fascinated him.
In a recent interview in 2013, Willbond revealed that Farnaby and his wife were soon expecting a child
He portrayed the paranoid Roman Emperor Tiberius in addition to Caligula.
PLEASE STOP WRITING MESSAGES ON WIKIA PAGES, instead of actually contributing facts or information
Ad blocker interference detected!
Wikia is a free-to-use site that makes money from advertising. We have a modified experience for viewers using ad blockers

Wikia is not accessible if you've made further modifications. Remove the custom ad blocker rule(s) and the page will load as expected.