Scotland is a Horrible Histories Special book. It was originally titled "Bloody Scotland" and it was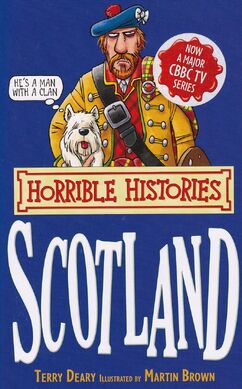 renamed to "Scotland" in 2009 in the book makeover version of Scotland. It had It is part of the British isles box set which also includes
England
,
Ireland
and
Wales
.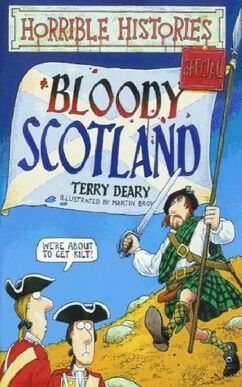 Description
Edit
It's history with the nasty bits left in!
Want to know:
How to play gruesome games like Twisting the Cow?
What the Scots used to do with burnt pigeon droppings?
Whenever you're a glaikit, douce or peelie-wally?
Discover the dreadful deeds' that make the history of Scotland so horrible - all the gore and more!
Over 50 Horrible Histories titles to collect! Got the whole horrible lot?
Introduction - 5
Take your Pict - Dark Age Scotland - 9
Funny food, cwaint customs and sporran sports - 28
Battling bravehearts - the Middle Ages - 44
Wild women and crazy cures - 60
Tudor Terrors - the 1500s - 69
Suffering school - 91
Which is witch - the 1600s - 99
Cruel crimes and painful punishments - 113
Tartan taming - the 1700s - 125
Weird Words - 150
Happy history - modern Scotland
Epilogue - 191
Additional Info
Edit
ISBN: 9781407110233
For ages 8+
Paperback
192 Pages
Releases: 19th of June 1998 (For Original Edition) and 4th of May 2009.
Author: Terry Deary
Illustrators: Martin Brown
Dimensions: 13.5 x 1.2 x 21.6 CM
Ad blocker interference detected!
Wikia is a free-to-use site that makes money from advertising. We have a modified experience for viewers using ad blockers

Wikia is not accessible if you've made further modifications. Remove the custom ad blocker rule(s) and the page will load as expected.