Nurse

Name

n/a

Affliction

Historical Hospital

Role

nurse

portrayer
Nurse
: Is a nurse in the regular hospital and emergency ward.  She accompanies the patients that see the historical doctors, and try to spare them from being the victims of the doctors there.  She is portrayed by
Dominique Moore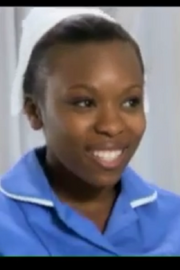 Biography
Edit
This nurse works at the Historical Hospital.  She tries to save patients from the doctors at the hospital.  This nurse is a reoccurring character
Personality
Edit
This nurse has a gentle nature like most nurses.  She tries to save patients from the doctors.
Appearance
Edit
This Nurse wears a blue nurse uniform and a nurse cap.  In the emergency ward, in addition to the uniform, she wears a plastic apron on top
A pirate doctor once handed her a severed leg, whereupon she fainted, breaking a chair. The pirate doctor used a piece of that chair for the patient's new leg.
She eventually convinced a regular doctor, to not leave a patient in the hands of an Egyptian doctor
Ad blocker interference detected!
Wikia is a free-to-use site that makes money from advertising. We have a modified experience for viewers using ad blockers

Wikia is not accessible if you've made further modifications. Remove the custom ad blocker rule(s) and the page will load as expected.