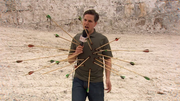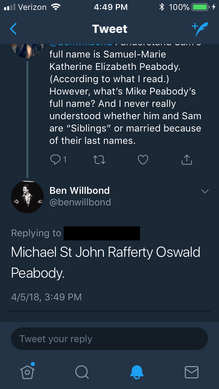 "This is Mike Peabody reporting for HHTV News in... really wishing I was somewhere else" -Mike Peabody
Funny comments, remarks, questions go in the comment section, because that's what it's there for!!! Stop posting in the the character's actual page
Michael St. John Rafferty Oswald "Mike" Peabody: Is the main correspondent for HHTV News.  He is sent to report, live, on dangerous events.  
Biography
Edit
Not much is known about Mike except that he's from the United Kingdom.  He works alongside Bob Hale and his sister as a live-on-scene reporter for HHTV News.  He, like most of the HHTV News crew, is a reoccurring character
He is portrayed by Ben Willbond.
Personality
Edit
Peabody is willing to put himself in "danger" to get an interview with persons during the event, that he was sent to. That or he's just assigned to that report and regrets it later.
Appearance
Edit
Mike sometimes wears a flak jacket over his dark green shirt, other times he wears a blue vest over his blue shirt with his jeans.
Mike Peabody tried keep off closing in Roundheads with a butter knife
Mike got shot in the front with many arrows during the Battle of Thermopylae, but he survived
Sam, the HHTV news feeder, is his sister
He managed to escape burning scaffolding
He escaped plague ridden London
He tried to hold off a heavily armed Viking with a threat that he would tickle him.