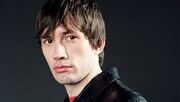 Lawrence "Lawry" Lewin: Is a reoccurring actor of Horrible Histories
Biography
Edit
Lewin was born on 28 November 1985 in Guisborough, North Yorkshire, England.  He was thirteen years of age when he made his debut as Tommy in Grange Hill.
He is also known for portraying Rossiter the Vinvocci in Doctor Who: End of Time.      
For a while Wikipedia got Lewin's birthday wrong, as July 6, 1973, more than a decade off the real date of Lewin's actual birthday
He portrays a paramedic in one of the Historical Paramedics sketches
Ad blocker interference detected!
Wikia is a free-to-use site that makes money from advertising. We have a modified experience for viewers using ad blockers

Wikia is not accessible if you've made further modifications. Remove the custom ad blocker rule(s) and the page will load as expected.