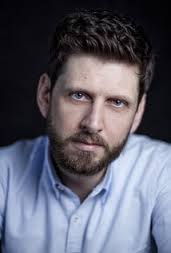 Laurence Carl "Larry" Rickard: Came to Horrible Histories not as an actor but a writer. Despite this he made his HH debut  in the very first sketch of the first episode along with several other actors. He is best known for portraying the infamous old and quite active HHTV News "weather" broadcaster Bob Hale. He works alongside 
Mat Baynton, Ben Willbond, Jim Howick, Simon Farnaby,Martha Howe-Douglas and  with Lawry Lewin, Alice Lowe and Sarah Hadland (who are minor reoccurring actors). He is the only one of the six main cast members not to have a solo musical number in the show.
(Directly from Wikipedia, Laurence Rickard)
Rickard has written for numerous UK comedy shows, notably including The Armstrong and Miller Show, The Charlotte Church Show and The Impressions Show with Culshaw and Stephenson, as well as children's programme Me and My Monsters.
He is perhaps best known for his role as a principal cast member, lyricist and writer for the award-winning CBBC programme Horrible Histories, in particular for creating and performing the character of 'Special Correspondent' Bob Hale (a parody of presenter Peter Snow).[1] He has also appeared regularly on the spin-off game show Horrible Histories: Gory Games[2] and in the Horrnible Histories BBC Proms at the Royal Albert Hall.[3]
Along with the five other members of the Horrible Histories starring cast, Rickard is also the co-creator, -writer and -star of Yonderland, an eight-part family fantasy comedy series due to premiere in autumn 2013.[4] In addition he is the co-writer of Bill, an upcoming BBC-produced comedy film which is based loosely, Horrible Histories-style, around the life of William Shakespeare, and which will involve the same starring troupe. The film will shoot later in 2013 and is due for release in the next year.[5]
As a performer he has also appeared in the Channel Four Comedy Lab 'Private Lives' as well as the TV series Balls of Steel.
Personal Life
Edit
Laurence Carl Rickard was born on June 14, 1975 in Brighton, England, he is professionally known as Laurence Rickard but often called Larry. He currently lives in Sussex with his partner Mary Philips and their dog. Laurence Rickard made it public on 4/14/2018 that he had a 9 week old son named Isaac Rickard. Then he made a tweet on 4/17/2018 showing a picture of his young son.
References
Edit