Jim Howick

Name

James Howick

Alias

Jim Howick

Occupation(Horrible Histories)

Actor, singer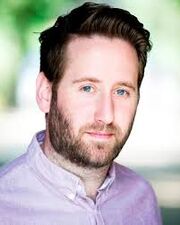 James Howick plays numerous characters in the British TV series Horrible Histories.  Some characters he plays are 
reoccurring
.  
In the series Horrible Histories Howick is an actor, working alongside Mathew Baynton, Laurence Rickard, Ben Willbond, Martha Howe-Douglas, and Simon Farnaby. Howick is a main actor in the series.
Biography
Edit
Howick was born the 4th of March, 1979. In 2012 Howick married his long term girlfriend, Lauren Denny.
He makes a cameo appearance in his fellow actor, Baynton's TV Series The Wrong Mans, as fellow employee Chris, in the third episode of the first series
Ad blocker interference detected!
Wikia is a free-to-use site that makes money from advertising. We have a modified experience for viewers using ad blockers

Wikia is not accessible if you've made further modifications. Remove the custom ad blocker rule(s) and the page will load as expected.