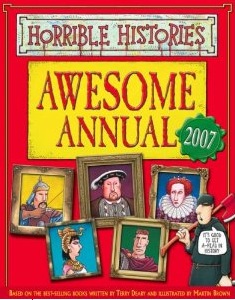 Awesome Annual 2007 is the first Horrible Histories Annual and is the only Annual to not have the new look. It was first published on the 7th of August 2006. The annual is about rulers. Another Horrible Histories is also about rulers, titled
Rotten Rulers
. Like all of the other annuals, Awesome Annual 2007 uses content from the books and the magazines,
The Horrible Histories Collection
.
Description
Edit
History with the nasty bits left in!

Rampage through history with the Awesome Annual and meet a whole host of rotten rulers along the way. Get the lowdown on the poisonous personalities who ruled the world, from Incredible Al the Great to the scary Russian Supertsars.
Want to:
Make your own severed hand-holder?
Play a game of spot the skulls?
Take a tour around the Tower of Power?
Stuffed full of foul facts, crafty cartoons and putrid puzzles, there's a whole heap of nasty bits inside!
History has never been so horrible!
Who died and made you king? - 5-7
Incredible Al - 8-9
Rome sweet Rome - 10-21
A horrible hun - 22-23
The middle rages - 24-27
Meet the Mongols - 28-32
Reign of pain - 33-35
Tricky Dicky - 36-41
Henry's horrid delights - 42-49
Bloody Mary - 50-55
A scary supertsar - 56-59
Shocking Sultans - 60-66
Unfair Empires - 67-75
Answers to puzzles - 76-77
Hardback
80 Pages
Release: 7th August 2006
Author: Terry Deary
Illustrators: Martin Brown, Patrice Aggs, Kevin Hopgood, Christyan Fox, Wildlife Art Agency (Robin Carter and Rob Davis), Chantal Kees, Roger Langridge, Gary Northfield, Worren Pleece, Dave Shelton, Paul Peart-Smith, Alan Craddock (For colouring pages 72 and 73) and Leo Hartas.
Age Range: 8-12
Dimensions: 28 x 22.6 x 1.2 CM