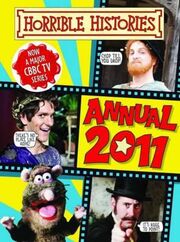 The Annual 2011 book is the 5th installment in the Horrible Histories Annuals. It was released in 2010.
Description
Edit
History with the nasty bits left in!
Foul Facts!
Crafty Cartoons!
Putrid Puzzles!
Spooky Sites - 5
Misbehaving Monarchs - 13
Beastly for beasts - 24
Grim Guests & Horrid Hosts - 33
Terrible Treatments - 39
Crummy Conditions - 45
Riotous Rebels - 54
Answers to Puzzles - 60
Ad blocker interference detected!
Wikia is a free-to-use site that makes money from advertising. We have a modified experience for viewers using ad blockers

Wikia is not accessible if you've made further modifications. Remove the custom ad blocker rule(s) and the page will load as expected.