Anne Saunders

Name

Anne Saunders

affliction

Historical Hospital

Role

Nurse

Portrayer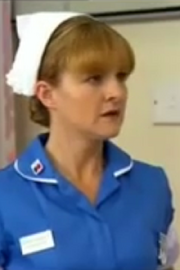 Nurse Anne Saunders: Is a sensible nurse that works at the Historical Hospital
Biography
Edit
Saunders works as a full time rescuer of the patients who are being treated by crazy historical doctor.  She is a reoccurring character at the Historical Hospital.
Personality
Edit
She questions some doctors's treatments, other times she fulfills the doctors's needs and commands. Despite this, she is a regular nurse.
Appearance
Edit
Unlike the other Nurse, Saunders only works in the regular part of the hospital. She has gold, red hair with a nurses cap on top and a blue nurse uniform.
Dr. Fuzzlepeck kept calling her a "sir"
She used a stone age axe to knock out Dr.Ugh. She had to reach across an unconcious patient in bed(climb onto the bed), to knock the caveman out,  reviving the patient.
Ad blocker interference detected!
Wikia is a free-to-use site that makes money from advertising. We have a modified experience for viewers using ad blockers

Wikia is not accessible if you've made further modifications. Remove the custom ad blocker rule(s) and the page will load as expected.